Company Logo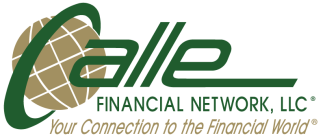 Email
CFN@CalleFinancial.com
Disclaimer
"Registered Principal, Securities offered through Cambridge Investment Research, Inc., a Broker/Dealer, member FINRA/SIPC
Investment Advisor Representative, Cambridge Investment Research Advisors, Inc., a Registered Investment Advisor.  Cambridge and Calle Financial Network, LLC are not affiliated.
Investments products and services available only to residents of: Alabama (AL), Arizona (AZ), California (CA), Colorado (CO), Connecticut (CT), District of Columbia (DC), Delaware (DE), Florida (FL), Georgia (GA), Illinois(IL), Indiana (IN), Maryland (MD), Massachusetts (MA), Maine (ME), Michigan (MI), Missouri (MO), Montana (MT), North Carolina (NC), New Hampshire (NH), New Jersey (NJ), New York (NY), Ohio (OH), Oklahoma (OK), Oregon (OR), Pennsylvania (PA), South Carolina (SC), South Dakota (SD), Tennessee (TN), Texas (TX), Utah (UT), Vermont (VT), Virginia (VA), Washington (WA), and West Virginia (WV).

We are licensed to sell insurance products in the following states of: New Jersey (NJ) and Pennsylvania (PA)
235 N Sycamore St
Newtown, PA 18940
United States
Company Description
We are dedicated to providing investment management and strategic wealth planning that is right for you. Simply put, we strive to be our client's trusted advisor.